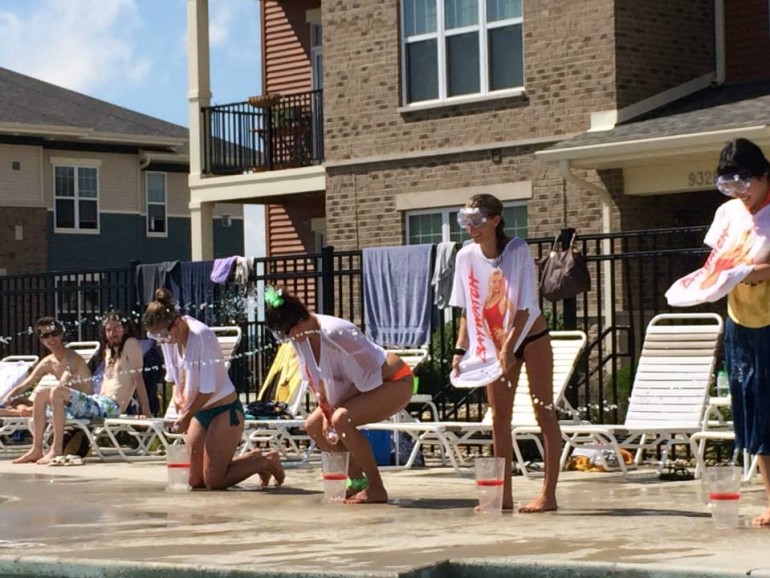 Do you enjoy lively costume parties, sunny pool side get-togethers, or even tasty chili cook-offs? Well if you said yes to any of these you must check out Aspen Hill Apartments. At Aspen Hill you can experience all this and more. Conveniently located on Madison's West side, Aspen Hill is a lovely community focused apartment complex with great amenities in a beautiful location.
I had the opportunity to tour Aspen Hill for the first time and wanted to share my thoughts about the apartments, the complex, the neighborhood and especially the community life.
The Apartments
Walking around Aspen Hill you will notice that it is a well maintained, beautiful community, but there are some things you might miss which stood out to me. First was the ability to grill on your own patio or balcony. Glancing around the property I could see many residents utilize this opportunity. This is not something many places allow, so it was a pleasant surprise to see. Second was the closets. Most were walk in closets which allowed for additional storage space and room for all those extra pairs of shoes. Finally, the solid core doors on each of the apartments. These doors really kept sound at bay which is nice for keeping sound both in and out.
The Complex
I'd have to say the view from the Aspen Hills roof top pool was my favorite part of the tour. Even when I experienced the view for my first time on a chilly fall afternoon, I couldn't believe how enjoyable it was. I was also impressed with how spacious the gym is in the clubhouse. With 900 square feet, you have plenty of room to work up a sweat.
The Neighborhood
Whether you are looking for the small town lifestyle or prefer the action of city life, Aspen Hill would be a great fit for you. Located on Madison's West Side between Hawks Landing and University Ridge Golf Courses, Aspen Hill is just minutes from stores in both Verona and Madison.
Activities and Events
Being part of the TRM community at Aspen Hill you will have the opportunity to experience a variety of events including the Annual Ugly Sweater Holiday Party, the relaxing Wine Tasting socials, and some of the best Pool Side Parties around. The Pool Parties feature a DJ, catered food, games, prizes and more!
If big celebrations are not for you, Aspen Hill also puts on community food drives, holiday decorating contests and cookie exchanges.
A Friendly Face
Walking into Aspen Hill you will have the chance to meet the friendly face of Jessie Hanlon, Property Manager. With a bright smile and welcoming demeanor, Jessie works hard at not only managing Aspen Hill, but taking the extra time to be a friend and community member. Originally from Baraboo, Wisconsin, Jessie moved to Madison 8 years ago. She has a delightful 9 year old daughter that enjoys experiencing life's new adventures with her. Jessie come from a large full of life family and enjoys bringing that energy into the TRM community at Aspen Hill. If you every need some help, have a question, or simply just want to chat, stop in and visit with Jessie.
Written by: Sam Brenizer